Featured Products
Our skincare essentials are designed to make you look and feel your glowy, dewy best before you even think about makeup.
> Shop All Products
OJESH INGREDIENTS
OLIGO HYALURONIC ACID
The key to success of OJESH's formula lies in the unique use of Oligo-HA, which is a low-molecular weight HA of 3000-5000 Da
Methylgylycine
This new type of humectant is highly active and can be absorbed at a rapid pace. Its purity, stability and versatility make it a safe and effective component in make-up and skin-care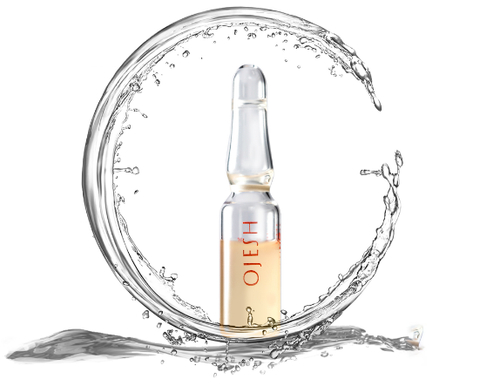 Easyliance
Easyliance is a natural firming agent consisting of biopolymers and acacia gum certified by Ecocert (one of the largest organic certification organizations in the world)
Tilia Cordata
The tree Tilia cordata is commonly seen in Europe. Its flower extract defends the skin against harmful radiation from the sun
Best Sellers
Our best-selling products are tailored to compliment any skin care routine.
About Ojesh
OJESH® and its line of products are proudly presented by Jassen GmbH, Germany. Founded in 2008, as a young company in the industry, quality and innovation has always been Jassen's priority, which has brought us success through the past 10 years.

The star product of the label is the OJESH Lifting Treatment: a luxurioushyaluronic acid serum in ampoule form, developed and manufactured in Germany,which gives your skin a youthful radiance that underlines your natural beauty.
Learn More
What Our Customers Say
Inspired by our intimate knowledge of the modern woman, Ojesh continues to create bespoke products and treatments that satisfy the desire for you.
Everything about OJESH is amazing... My skin looks brighter and much more hydrated. OJESH has changed my life...
- Vanessa
"Contrary to popular belief, Lorem Ipsum is not simply random text. It has roots in a piece of classical Latin literature from 45 BC, making Hampden-Sydney College in Virginia"
- Jessica
"Very happy with this great little bottle of Ojesh, my skin became acne free after 2 months of usage. I am totally fall in love! "

- Ting-Ting
"Contrary to popular belief, Lorem Ipsum is not simply random text. It has roots in a piece of classical Latin literature from 45 BC, making Hampden-Sydney College in Virginia"
- Sergil Reid
"Very happy with this great little bottle of Ojesh, my skin became acne free after 2 months of usage. I am totally fall in love! "

- Qing Zheng
"Very happy with this great little bottle of Ojesh, my skin became acne free after 2 months of usage. I am totally fall in love! "

- Carol